Corrugated Cardboard Pallet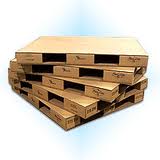 Corrugated Cardboard
Pallet
[Pallet?:pallet]
is made from corrugated cardboard, is lightweight and 100% recyclable.
Corrugated Cardboard
Pallet
is designed to transport product by air-freight due to the cost saving benefits of its lightweight properties.
There is no need to fumigate such as wooden pallets and it is especially suitable for use in areas of hygienic importance.
We offer Corrugated Cardboard
Pallet
cutting mahcine, cut the corrugated parts after import the design into the
cutting table
[cutting table?:sample maker cutting table]
.