The principle of automatic box proofer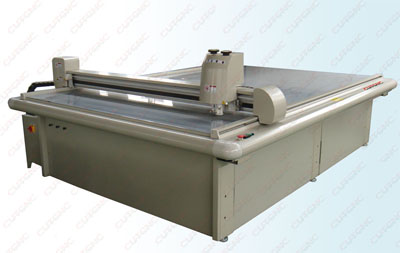 Most automatic box proofer at least include the following components: the machine (including cutting table[cutting table?:sample maker cutting table]) parts; electrical control and drive part; vacuum adsorption system; combination tool head (cutting /creasing folding lines / drawing); graphics[graphics?:graphics pattern] transmission and operating systems; some box proofer also must have a compressed air system.
After a professional graphics software processing of the files contain the needed lines, cutting line (corrugated paper[paper?:paper sample maker cutting machine][corrugated paper?:DCP-H series sample cutter plotter] / cardboard / film[film?:film cutting machine]), and may also include dimensions, file notes, etc. (cardboard / paper film etc.)
Installed of different cutting tool / pressure wire wheels / drawing tools, or data through the network cable to a certain format sent to the machine, the machine will automatically identify the graphics in a variety of line and use the appropriate tools (knife / roller / pen), but also with the corresponding parameter settings, such as work speed, tool type, blade cutting depth, the depth of indentation, etc. To cut the box sample and drawing.