carton cutting table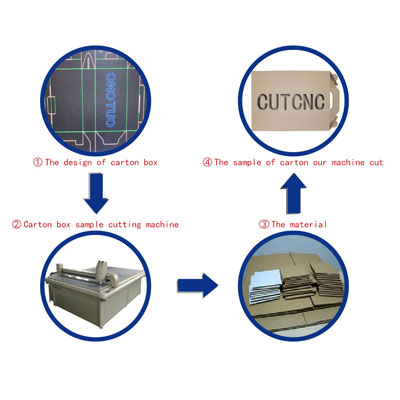 CUTCNC[CUTCNC?:cutting machine sample maker manufacturer] carton[carton?:carton box sample cutting machine] cutting table[cutting table?:sample maker cutting table] can be used in such industry of packaging[packaging?:DCP-H series packaging sample cutter plotter] corrugated paper[paper?:paper sample maker cutting machine][corrugated paper?:DCP-H series sample cutter plotter] box, card paper box color printsample mold and so on. carton cutting tablecan cut corrugated paper, hard board, foam board[foam board?:foam board], plastic[plastic?:Plastic sample cutting machine] board, thin board..
Features of CUTCNC carton cutting table:
High precision (error<0.1), saving time of the proof, stability and durability, easy to operate.
Cutting function of oscillation tool, It can cut many different materials ( such as corrugated papercard paperoffset plategrey boardcompound materialsgasketleather and clothes[clothes?:clothes paper cutter machine])
Folding function, It can fold corrugated papercard paper and offset board into perfect folding line. Function of dotted line, it can be used to fold them after half cutting corrugated paper and grey card paper[card paper?:card paper cutting machine], and to cut dotted line.
Location, Location with laser to cut the printed patterns with high precision.
Drawing function, It can draw various high precision drawings.