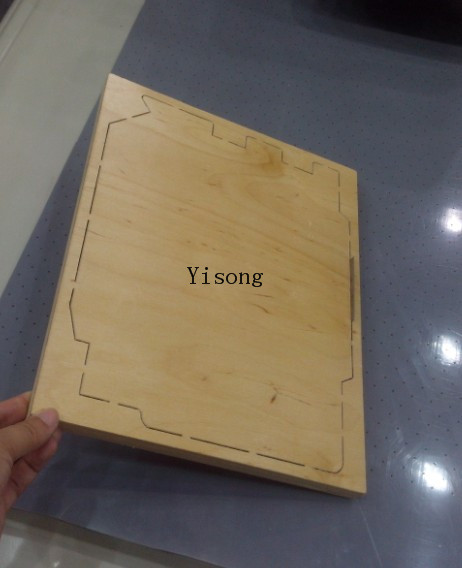 Die cut mold widly used in packaging[packaging?:DCP-H series packaging sample cutter plotter], advertising[advertising?:advertising material cutting machine], printing[printing?:printing cutting finishing solution] industrys. Manufacutre use it to cut or shape material using a press. Like molds, dies are generally customized to the item they are used to create. Products made with dies range from simple paper clips to complex pieces used in advanced technology.
Die mold usually made by wood board. Using laser cutting machine[cutting machine?:CUTCNC sample maker cutting machine] cut the small kerf on thick wood board. But high power laser cutting is expensive, usage and maintenance cost is high, taking up a lot of money, return cycle is long, big risk investment, Although small and medium power laser cutting is cheap, using low cost, but laser accuracy is not high, poor stability, the efficiency is very low, cannot satisfy the high-end customer demand, product profit is low, the investment return is not high.
We are the cutting table[cutting table?:sample maker cutting table] manufacture in packaging and printing industry for 15 years, know the problem of laser machines. So we developed die board wood board milling machine replacing laser cutting, widely used in color box, printing, packaging, electronic die cut, high precision die cut ;processing wood board mould, electricity board mould, PVC[PVC?:PVC sample cutting machine] board mould, acrylic board mould, aluminum plate mould, also can soffit formwork mould, stripping plate mould .
YISONG die board wood board milling machine ten advantages:
1.Cold working replace fire working
2.Simultaneously Processing on both sides, high efficiency
3.Router determine up and down Knife width slot exactly the same,both curves and Arc line knife up and down all vertical , Knife slot interface Closed well
4.Low cost, only need normal router,no need other consumables
5.Without using any special gas
6.greens environmental protection, no pollution, no radiation.
7.Low power consumption, no starting up fee, no need waiting for starting up, immediate using
8.Milling more than 0.5mm width slit router wood mould
9.Suitable for processing variety of materials router wood mould, plywood mould, electricity board mould, PVC board mould, acrylic sheet mould, aluminum sheet mould, soffit formwork mould, stripping plate mould.
10.Device structure stable and durable, easy maintenance, low maintenance costs.